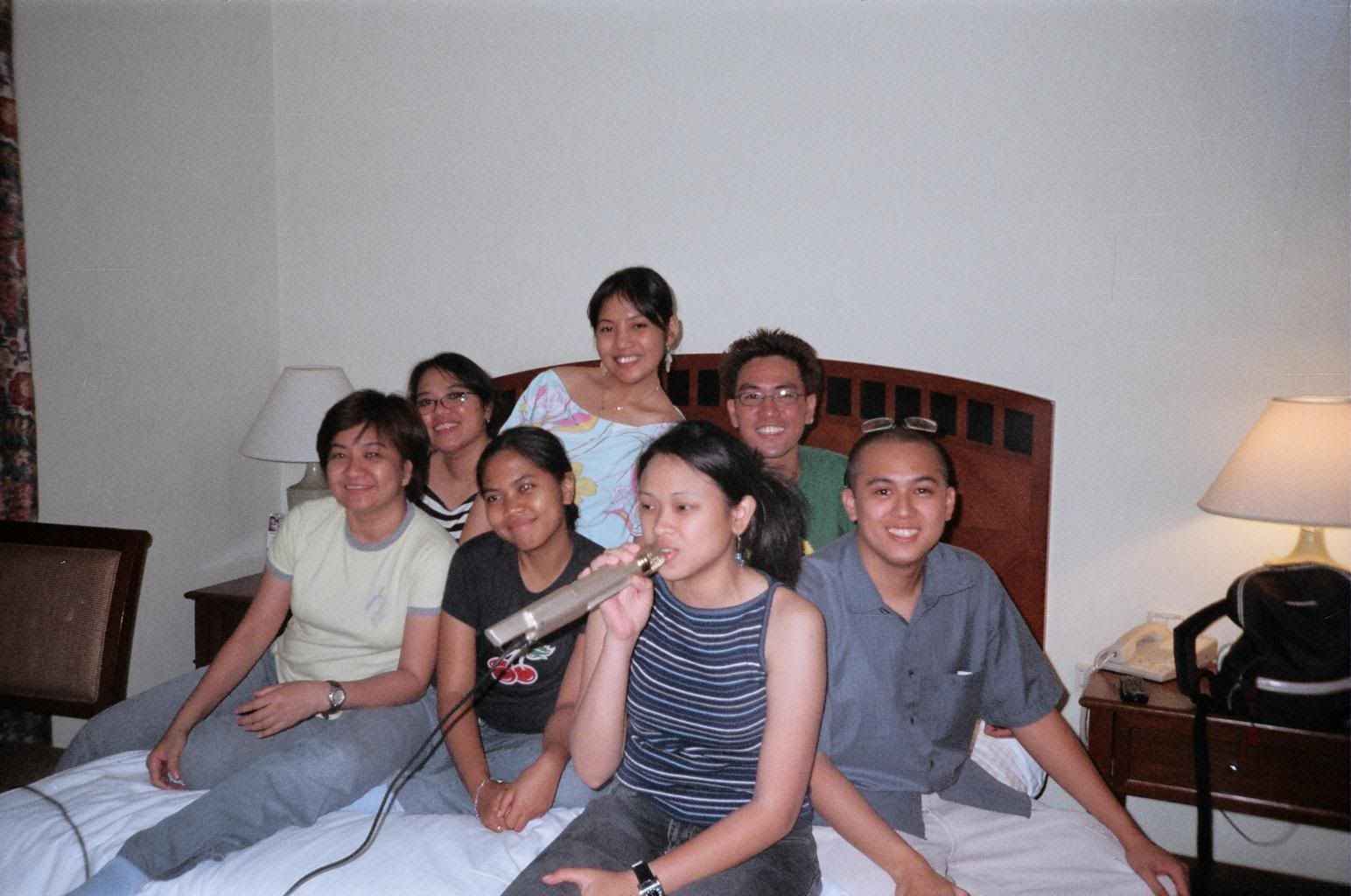 Just came home from our team building activity which was held at Linden Suites in Ortigas.I'm a tad sleepy and tired right now but i really want to blog something about it.I had a lot of fun with my teammates sobra.Although it was just for a day pero i can say its one of the most memorable events I had in my call center life.Hindi ko na hahabaan ang kuwento ito na lang,in a capsule form,ang highlights ng team building activity na to.Food trip.Videoke trip.Kuwentuhan galore.swimming.stand up comedy.dance competition.concert in the park.usapang vegetarian.usapang the buzz.kris aquino.usapang marijuana.usapang multo.usapang junjun.going bulilit marathon.may natutulog na nagsasalita.may naglalakad ng natutulog.may natutulog na naghihilik.ahehe.kompletos rekados.
To my fabulous team mates and to my TC,you guys are simply the best.=)
TC Jello-TC I'm really thankful kaw ang naging TC namin,we will never trade you to any other TC in TXU.Once a tomahawks, we will always be a tomahawks kahit mareshuffle pa kami,I know yung bonding natin as a team hindi mababago.Thanks TC sa team building na to,dati nagpaplastikan lang kami ngayon hindi na masyado.
Ate Dines-I hope nagbablog ka para mabasa mo ito.Ikaw ang nagbigay buhay sa team building natin.Sobrang naaliw ako sa mga dance steps mo with matching props pa.Ano sinabi ni Mystika sa choreography mo.At ang singing talent kumakabog.Pangjapan talaga.ahehe.The who ang lola mo na nakainom ng ilang sachets ng extra joss,nabinat sa sakit at nagmanifest ang mga evil spirits during our team building?Hulaan nyo.Siret na?
Meg-Our meggystar,I know ikaw ang conceptualized ng lahat ng ito.Conceptualize daw oh?Kahit wala ka ng pahinga makita mo lang organize ang lahat,okay ka na.Super OC ka talaga.Salamat sa pagprepare ng breakfast kahit di ko natikman, sa paghuhugas ng plato, sa pagliligpit ng mga kalat ng pasaway na mga kagrupo natin.In short salamat sa pagiging tsimay mo para sa Toma.ahehe.Ang magiging pinakamagandang tsimay sa balat ng Texas.O bumawi ako.I'm so mean.hehe.may da who pala ko uli,sino ba tong lola mo na malakas mag***** .?Txt Toma space answer double space and send it to outer space.
Jeng-Videoke buddy!Sana kumanta uli tau na parang wala ng bukas chong hehe.Impeyrnes high score ka sa magic sing medyo nilakasan mo kasi boses mo nung huli eh. hehe.Joke lang jeng.Oist salamat pala sa magaganda mong sinabi nung bull session.Sori naubusan ako ng cash nung gabing yun kaya hindi kita nabayaran.Lista mo muna ha.Upload natin ung winning shot mo sa frendster.hehe
kelly-namiss k namin kelay sobra.Buti nakapunta ka.alam mo sa sobrang miss ko sayo yung pagiging irate at bitchy mo sa mga Texans ginagaya ko na.haha.Kahit may sipon ka galing mo kumanta .Hope to see u soon mare.Pestehin uli natin ang buhay ng mga kano.joke.In the mean time habang wala ka ako muna uupo sa trono mo.Whatever ma'am.
Prima (Donna)-Prima,masyado k ng popular frend ha di na kita maabot.hehe.wala lang,kasi totoong tao ka kaya like ka nila.Pero ingatan din ang dila minsan.HIndi ka namin kinaya sa mga panglalait mo, sobra pati si TC di mo pinatawad.Pero luvs ka namin.Platonic lang.hehe.
Sandro-Mahal aka Britney Spears aka Boy TIgas.Ohmygod m so confused.Parekoy may future ka sa stand up comedy.Aliw ka.Ano pinapasok ka ba ng misis mo sa bahay nyo paguwi nyo?Hindi ka naman amoy chico,amoy lime-gin ka oh di ba sosyal?Sana nakauwi ka naman ng buo.
Ron-Hindi kita narinig kumanta,pero narinig kita humilik.Im really a bad person.Alam mo naman yun di ba?Whatever you say sir.Alright whatever maam.Huwag mo kong gagayahin ha?
Aba-sarap ng meat magic mo chong.Nagenjoy ka sa going bulilit ah.kaw ang pinakamalakas tumawa.Angjojologs natin parekoy.Every sunday alam ko na ang TV viewing habit mo-concert at the park at going bulilit.Ano nag jacuzzi ka ba chong?Baka naman nahubad yung short na pinahiram ni RG haha.
RG-ingat ka kay Ate Dines.always ready daw siya para sayo.ahehehe.Sulit na sulit tayo sa swimming pool chong ha.zareen-sayang aga mo umuwi.ang dami mo namiss.sana makasama ka namin ng matagal minsan.=)Busy busyhan na naman uli tau pag tapos nito.
Special Guest Vice-Chong salamat sa pagpunta sa party ko.Text text.heheOk I'm not yet done with my statement peeps(D who ang may famous lines na ito), sa iba pa naming kasama,sana po nagenjoy din kayo.
Flo,Cassy,Vyron,Mau,TC Daniel-pasensya na po sa mga Tomahawks kalalaya lang ng mga yan.Pasensya na maingay kami.Sana yung audits namin wag naman maapektuhan dahil dun.hehe.joke.Sana u guys also had fun.=)Sana pag nagcheck kayo friendster,sana mabasa nyo tong blog ko.Cg tulog na muna ko.balik alipin na naman ako later eh.Gud day everyone.=)