I will start taking in escalated calls by Monday.I was appointed by my team captain to be included in the escalation team.Lucky me.hehe.Although I am really hesitant about taking this position,(if you have read my previous post, I enumerated the reasons why I dont want to be promoted as EA), I finally said yes,I'll take the post, kahit pa sapilitan because TC told me it is the right thing to do.He said that if I want to be promoted to a higher position, say Team Captain or QA analyst, I have to be in the escalation team first.One at a time,he said.He gave some encouraging words ,that left me thinking and contemplating since it has something to do with my future.Future daw oh?I know TC wants the best for me.I am so happy because he believes in my capabilities.
There are five of us who were promoted as EA and there are about more than a hundred agents in the floor.So it is really flattering if you have been chosen to do the job of a supervisor.It is a huge responsibility so I really have to be good in what I am doing.Pacifying irate customers and taking in calls that can't be handled by regular agents is no easy job.This is really one challenging position, so I feel excited of facing the pressure and demands of the job but at the same time,I can't help but feel nervous about it.
---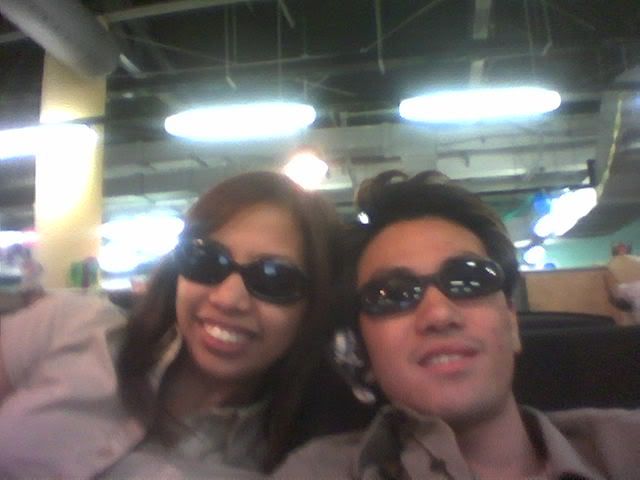 With Meg
"Maawa kayo sa mga bulag,please..."
I starting to love my schedule, although my restday is on weekdays, it's fine since saturday and sunday are petiks days, meaning call volume is low.You can even sleep during the shift or finish a couple of chapters of your favorite book.And that's what I am doing, I am sleeping during shift hehe, (look,ayan ang ebidensiya sa taas, nakashades pa,angliwanag kasi sa floor)bad me and also I am reading Prisoner of Azkaban.Yes I am still on Book 3 of Harry Potter series.Well,I have to go back on reading books since I feel like my brain cells are no longer working.hehe.But the not so good thing about working on weekends, is I will not be able to watch PPS ,Search for SIAM and some good TV programs.Anyone who has catched PPS and SIAM this week?any updates?
---
I will no longer be on my team Tomahawks.I will surely miss my team mates.But as they say, changes are inevitable, and I will still see them anyway, so there's no reason to be sad.Besides most of my former team mates are on the escalation team so it will just be a tad adjustments on my part since I already know most of them.
---
Nothing interesting stuff happenned this weekend.Same boring life.Today is a Sunday and I have a shift later.Just finished watching kiddie cartoon The Incredibles on DVD.I also watched The Buzz for showbiz chickas.updated na ko hehe.
---
So there.I have to brace myself.Tomorrow will be one big day for me.So help me God.