I was looking into the archives of my blogsite when I read on one of my entries that it was a year ago when I signed a contract for Teletech as a Tech Support Rep for Accenture/SBC yahoo DSL.I had a lot of fun during the training.It was a difficult training I can say.Luckily I passed the American Accent class as well as the product training and was certified as a Tech Support Rep after two months.However I only lasted on the floor for about two weeks since I felt that it was not the job that I want to do.The account is really technical and require a lot of problem solving skills which I dont think I have hehe-well just look at the job title, it is so technical.Hindi kinaya ng utak ko.That one of the lowest points of my life.I thought it will be the last call center I will be working in.But after a month of being a bum, I finally got a job - still in a call center, the call center where I am working now, Ambergris.
I so miss all my friends in Teletech especially my batchmates from Wave 7.0, it was so fun working with them. Although mahirap 'yung account, I know because I have friends around, I was motivated to do my best.I remember before ako umalis, it was Ed and Cindy who encouraged me not to leave and sobrang sarap ng feeling that there are friends who care and will support you all the way kahit ano pang mangyari.

Wave 7.0 Aina's Class:Cindy, Ed, Xty,She, Cora, Tin.Rico,Bob, daddy edz and Joseph - I know you will not be able to read my blog but I just wanna tell you that I miss you guys.I hope I can see you one of these days.:)Sana you still remember me.Some of you guys nakakachat ko pa sa YM like Ed, Cindy and She, some are on my friendster but most of you,wala na kong balita. I hope you guys are doing well sa mga career nyo.:)
So kaunting reminiscing lang po hehe:
This is from Ed's photo Album in Friendster.:
One of the best experiences i had working, was being with you guys! =)
PIER 1 ,BUENDIA
An after shift gimik in Pier 1, hindi na po ako nagyoyosi ngayon last year pa po yan!=) defensive.hehe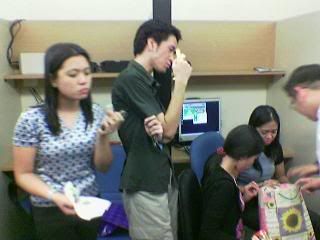 SERIOUS PEOPLE AT WORK???
That's what you think! We were busy picking out what we want out of the most coveted "chocolate stash" as price for winning in the WAVE 7.0 ACE Competition. We were leading but an unfortunate lapse of judgement and familiarity with names gave all our efforts away! Sorry guys! Ha ha ha!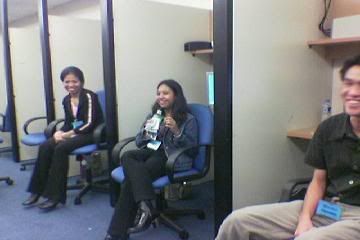 CHIT CHAT
Who would have guessed i'll be good friends with one of these people?! And guess who! Hmmm... not irate, always just like that! Ha ha ha!I miss you She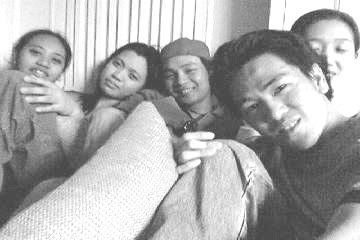 PARTING TIME
Dematisse, Malate

This was the last time my ACE batchmates and I were able to go out together...I so miss them=(