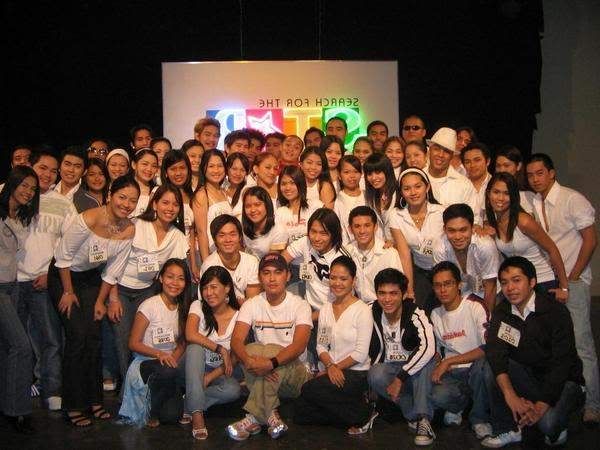 I am self-confessed reality TV and local talent search freak.But since weekend is the only available time I have to watch TV so can only see a few local TV programs of this type that Ireally like.Two of those programs are talent search shows from the two giant networks.The first one is Search for Star in a Million and the other one is Pinoy Pop Superstar.And for those of you who also like these shows, here are the chicka / updates.
SEARCH FOR STAR IN A MILLION
Finally the Champion League of Twelve has been completed.Tonight the two new champions added on the league were Anna and Lance.I dont have a bet yet kasi marami talaga magagaling sa batch na to.Maybe next week I will post my top three here.Gusto ko tama 'yung prediction ko parang 'yung kay Eric santos sa SIAM I.hehe.
1) anna -- got the voice and star appeal ,the bomb daw sabi ni wyngard
2) jimmy-- got the voice and attitude sa stage
3) kris -- rnb singer,angas hehe
4) tata-- great voice para sa akin
5)tony-- voice range is really high
6) joey -- complete package (?)
7) francis-- he joined PPS prior to joining Siam
8) vino -- the balladeer
9) shake -- classical voice, josh groban
10) lance -- mataas rin yung range ng voice
11) ais -- ok rin ang voice
12) jay -- hindi ko siya masyado nafefeel ang presence niya hehe
Sobrang dami nila kaya mahirap mamili.Kayo, sino bet nyo?lets all watch out for their grand presentation on aug. 14 at aliw theater.
PINOY POP SUPERSTAR SEASON TWO
The two grand finalists for season two are Harry and Gerald Santos.Long lost brothers daw ang dalawa, but they are not related.Here is an article I got from a thread in article from
PEX

Harry and Gerald Santos

This isn't a battle between blood relatives. This is strictly a singing competition. But with two beguiling Santoses in the early slate of Pinoy Pop Superstar's grand contenders, we can't help but explore the difference between the two!

Gerald Santos and Harry Santos are two unrelated teens from different worlds brought together by their singing prowess. They bring their unique qualities to the 2nd season of Pinoy Pop Superstar. Harry, 16 is becoming a ladies man this early thanks to his captivating Josh Groban vocal flair while Gerald, 15, has impressed audiences with an unprecedented score of 99% in the defending rounds of previous episodes.

These teenage boys have striking differences which set them apart from each other but at the same time, pull them closer to the appreciative hearts of the listening crowd. Harry is from a well-off family, while Gerald grew up in a lower income community. Harry is in his college, while Gerald is in his 3rd year in high school. Harry infatuates on young Nadine Samonte, while Gerald dreams of meeting working mom, Carmina Villaroel. And when asked what they would do with the Php1 million, they gave different views. Harry says he'll buy a house where he and his family can stay together, while for Gerald, depositing the money first in the bank would be ideal so that in case he loses the singing contest, he'll still have cash to spend on rainy days.

Although having different backgrounds, these two aspiring singers share some similarities as well. Harry and Gerald's love for singing were inspired by the death of their loved ones. It was when Harry's beloved grandmother died that his family heard his powerful voice. Gerald, on the other hand, couldn't stop thinking of his uncle who passed away too. It's undeniable that they are highly attached to their families and relatives. It's also no longer surprising that both consider building a career in the musical world. Harry says "Gusto kong magkaroon ng experience and mag-enjoy hangga't kaya ko pang kumanta." And Gerald? "Maraming nagsasabing maganda boses ko and gusto ko rin po talaga [kumanta]."

Harry Santos and Gerald Santos are the first two grand contenders of GMA 7's weekend show, Pinoy Pop Superstar Season 2. They will compete in next year's grand showdown. Watch the country's fresh singing talents every Saturday, after 'Wag Kukurap.
---
Para sa'kin 'yung range ng voice ni harry and Gerald ay para sa mga ballad at pop songs.Although magaling talaga at powerful ang voice ni Harry harry especially pag mga Josh Groban songs ang kanta niya,kayang kaya niya.Si Gerald naman, malufet din, and everytime na kumakanta siya, parang I'm watching a drama,I see a child acting on stage without effort pero mageemphatize ka sa character.Ganun siya kaeffective pag nagdeliver ng song.'Yung tipong parang umaarte siya at umiiyak pero hindi naman.If you guys watch this saturday's episode there is a new major contender and his name is Dan.Personally, I think magaling din tong Dan especially his rendition of Eric Clapton's change the world.Medyo husky 'yung voice nya pero carry niya 'yung pagdeliver ng pagiging soul nung kanta.And he has a different style sa pagpeperform.Sobrang taas ng energy level niya last saturday kaya naging mahigpit ang laban nung wildcard round.Nakipagpustahan pa ko sa nanay ko na bago ang magigiging champion.Nagkaroon tuloy ako ng LSS sa song ni Eric Clapton.hehe

"If I could reach the stars
Pull one down for you,
Shine it on my heart
So you could see the truth..."
-Change the World