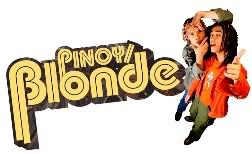 Unitel Pictures is known for coming up with movies that go against current trends.Movies that are different.Think of Sharon Cuneta's "Crying Ladies," Angelica Panganiban's "Santa Santita," and Robin Padilla's "La Visa Loca," all of them well-received. I have seen "Crying Ladies" and for me,it is really one the best Filipino movies of all time
.
And so I went to Sm Marilao yesterday to see Unitel Pictures' newest film, "Pinoy Blonde" topbilled by Epi and Boy 2 Quizon, playing two film school geeks who get entangled with the underworld."Pinoy/Blonde" is a collaboration of Peque Gallaga and Lore Reyes.I dunno but everytime the names of these directors were mentioned,what comes to mind is Shake Rattle and Roll sequels.Although I know Peque Gallaga made a film that was a hit during the 70's,I forgot the title though.

"Hindi typical Pinoy film" the blurb reads. According to an Inquirer review,the promotion has been claiming that "To say that Pinoy/Blonde is not your typical Pinoy film is an understatement", however the effect of the brocka-bernal debate on the target 14-29 demographic remains to be seen.I have to agree.
I was disappointed seeing the movie.The movie is pretentious in a lot of ways ,pilit when it comes to acting,hilaw pagdating sa script.Dont get me wrong,I have seen a lot of Filipino films who really dares to be different.And Pinoy Blonde is not one of these.
Nagconcentrate ba sila sa visuals at pagcacast ng maraming artista para bumenta? It had no script, just a bunch of quotes from hollywood movie and yung Brocka-Bernal dialogue/debate ay nakakairita,paulit ulit,nakakasawa.The only saving grace of the movie was Jaime Fabregas.And maybe the polished visuals.maganda talaga,opening pa lang,visually stimulating na.Hindi ko man lang na feel 'yung presence ni Eddie Garcia.Pilit yung pagkawitty ni Boy 2 and Ipe.Sorry this is my first film review on my blog pero sobrang mean ko.hahaha.
Once again, another all-hype pinoy movie.Maybe that's why yung ibang kasama ko sa sinehan,hindi na tinapos yung movie.I stayed and finished the movie.And yes,I wont recommend it to my friends.If they want a good sleep in the cinema,maybe.
I am glad that local producers like Unitel Pictures are actually making movies like this"who dares to be different"Well...hope they will actually make a good different movie next time.Sana kung may battlecry man na "not a typical Pinoy movie" ay makikita mo talaga pag pinanood mo yung movie.Sana hindi dinaan sa publicity.
I'm hoping.