Marami nang nagsulputan na Koreanovela sa TV pero dahil primetime sila pinapalabas at masyado na silang marami, nawalan na ko ng interes kaya't hindi ko nasubaybayan ang kahit isa sa kanila.
Dahil kay Ferdie, he was a classmate in Highschool na sobrang dami ng collection ng Korean movie and tv flicks,at kabisado yatang lahat ng character ng mga Koreanovelas pati na rin mga soap sa Arirang channel, kaya nacurious ako tuloy bigla kung ano meron sa kanila.At sinimulan ko ito sa pagbili ng isang kopya ng DVD na ang title ay My Sassy Girl. And I must say watching this movie is a good start for someone like me who wanted to appreciate Korean films and culture.
---
Sa dami ng kailangan kong gawin,so far My Sassy Girl pa lang ang napapanood ko sa mga binili kong DVDs sa Quiapo. It is a romantic comedy,a feel good movie to watch kung gusto magpakamushy and manood ng movie na light lang pero maaaliw ka talaga.Although slapstick yung style of comedy, natuwa pa rin ako sa mga Korean characters at sa plot nito.Aliw siya kahit kailangan tumutok ako sa TV para basahin yung English subtitle.
I know marami na ang nakapanood sa inyo nito ,medyo luma na kasi siya and you must be really tired of hearing reviews about the movie.pero sorry wala kayong magagawa dahil kinacareer ko na rin ang pagiging film critic hehe.Kung ayaw nyo di wag kayo magbasa.Joke.
Nabasa ko na pinalabas ito noon pang 2001 at talaga namang humatak ito sa takilya sa South korea.Ang mga bidang artista ay ang Korean pop singer Cha Tae-hyun opposite Jun Ji-hyun .It had become the second-highest grossing film for 2001 and had earned a place as the highest grossing Korean comedy in the country's box office history.taray pala ng movie na ito.
Sa mga hindi pa nakakapanood heto uli ang movie review mula sa link na ito:
www.mediacircus.net/mysassygirl.html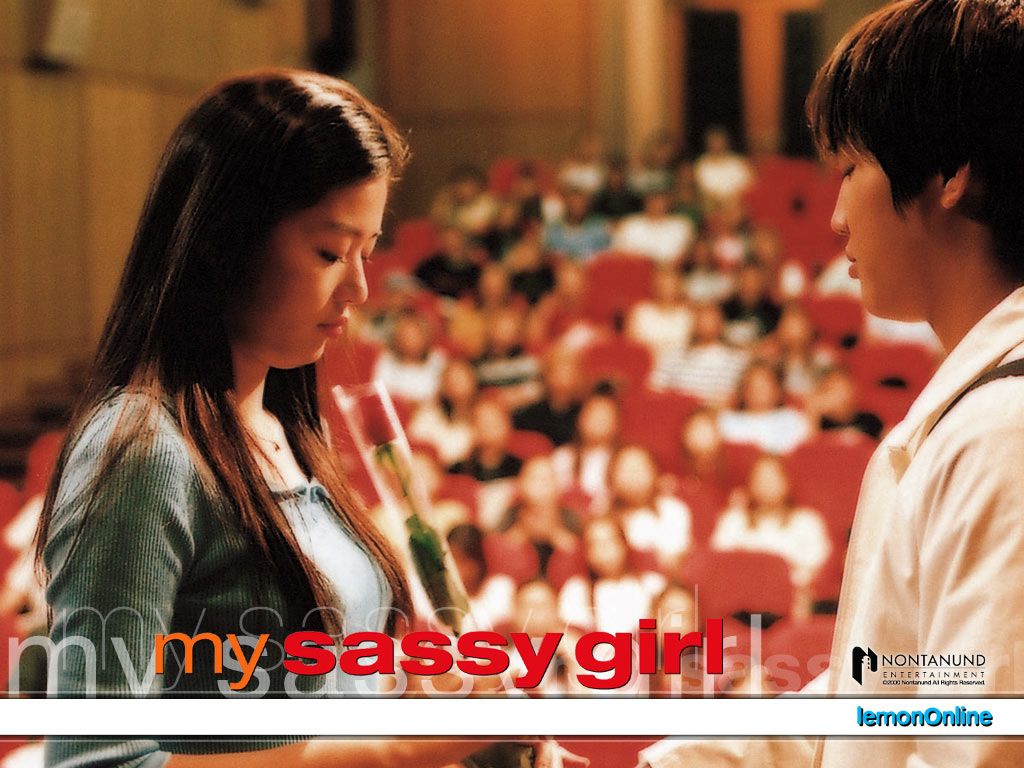 "My Sassy Girl" is based on an on-line serial written by Kim Ho-sik that detailed his relationship with his off-the-wall college girlfriend. This was eventually compiled into a best-selling book and caught the attention of director Kwak Jae-young, who wrote the script for the film. The story kicks off with college student Kyun-woo (Korean pop singer Cha Tae-hyun, in his feature film debut) crossing paths with a drunk girl (Jun Ji-hyun of "Il Mare") on a late-night subway. Just before she passes out, the girl looks at Kyun-woo and calls him 'honey'. The other passengers, assuming him to be the hapless girl's boyfriend, demand that Kyun-woo look after her. After carrying her on his back for what seems to be miles, Kyun-woo drops the girl off at a motel. But instead of leaving her and getting on his way, Kyun-woo finds himself intrigued by the nameless girl and vows to do whatever he can to heal her sorrow.
Unfortunately, he gets far more than he bargained as he becomes wrapped around the finger of this strange girl, whose dramatic mood swings are outmatched only by her penchant for sociopathic behavior. When they dine out and Kyung-woo orders anything but coffee, she barks her mantra "Do you wanna die?" and then promptly changes his order to coffee. When her feet begin aching from walking, she forces Kyung-woo to switch his comfortable running shoes for her high heels. And being a budding screenwriter, she demands that Kyung-woo read her wacky treatments, or else face an ass kicking. However, despite these crazy antics (not to mention landing in jail a few times), Kyun-woo finds himself hopelessly hooked on this 'sassy girl'. And though the girl seems to relish in humiliating and belittling those around her, it becomes clear that underneath the brash exterior is a wounded soul who holds a genuine affection for Kyun-woo.

This cleverly scripted comedy covers a lot of territory in its two-hour running time, containing enough material for at least two movies. The film's first half (a fact that is irreverently highlighted with a big bold pastel-colored title) deals with Kyung-woo's initial misadventures with the 'sassy girl' and the absurdity he faces in her company. In addition to the obvious comic set-pieces revolving around the girl's anti-social tendencies, Kwak has some fun visualizing her female-centered film treatments, such as "Terminator Demolitionist", featuring a female warrior from the future gunning down bad guys à la "The Matrix". Another great gag has Kyung-woo being instructed to drop off her treatment at Shin Cine (the production company behind "My Sassy Girl") and making the suggestion that Han Suk-yu and Shim Eun-ha be cast in the lead roles (for the uninitiated, they are two top Korean box office draws who appeared together in "Christmas in August" and "Tell Me Something").

However, as the film moves into its second half (declared with more pastel-colored lettering) and even overtime (check), the bottled-up emotions and vulnerable side of the 'sassy girl' start to reveal themselves, and the film moves into more melodramatic territory, reflecting the growing maturity of the two lead characters. The film even takes a riff from the ever-popular 'love across time' genre (which includes "Ditto", "Failan", and "Il Mare") as the would-be lovers spend some time apart and are reunited by an unexpected and clever plot twist. Despite the more serious mood of this latter half, Kwak manages to avoid the melancholic overkill that permeates the typical Korean romance, while still providing a good enough emotional footing for the story.

If there is one really good reason to watch "My Sassy Girl", it would have to be Jun Ji-hyun's turn as the film's unnamed heroine. From her unforgettable first appearance as a wasted commuter, to her rambunctious bullying of Kyun-woo, to the heartbreak she wears on her sleeve, Jun displays an unparalleled level of enthusiasm and dramatic range in portraying a young woman whose domineering exterior is but a smokescreen for her own vulnerability-- it is almost difficult to believe that this same actress who played the quiet and introspective Kim Eun-ju in "Il Mare". As her opposite, the likable Cha Tae-hyun is the perfect comic foil/underdog for Jun's bundle of untamed energy, and his 'constipated' facial expression, when faced with one of her 'outbursts', is priceless.

Like the best Korean films, "My Sassy Girl" is a genre-bending exercise that throws in elements of the teen comedy, the traditional melodramatic romance, and even some genre parody and blends them into a unique cinematic experience that defies categorization. The film's original Korean title, Yeopgi, which means 'novelty-seeking', is in reference to the youth craze that was started by Kim Ho-sik's original Internet postings about his eccentric girlfriend. Though the English title for this film doesn't mean quite the same thing, it certainly does tell you what to expect.
---
Totoo, matalino ang pagkakasulat ng iskrip ng pelikulang ito.Alam ng sumulat kung paano kukunin ang kiliti at simpatiya ng mga manonood.Nagustuhan ko rin yung bahagi kung saan pinabasa ni Jun Ji-hyun yung script na ginawa niya kay Cha Tae-hyun ala Matrix at siyempre yung mushy part kung saan bumalik yung guy sa place after two years na suppose to be ay magkikita sila 'nung bidang babae.Nakakalungkot 'yung laman ng sulat Jun Ji-hyun.Natuwa ako sa twist nung kuwento.Stop muna ako.Ayokong maging kill joy dito.Suspense.Manood na lang kayo para makita nyo yung sinasabi ko.

At punta na kayo ng Quiapo at hanapin ang sassy girl.Support piracy.nyahahaha.bad.Oist Ferdie pahiram naman ako ng mga collection mo ng koreanovelas.Yun lang bottomline dito eh.hahaha.=)